Darling Dolls Peach Orchid- Cream Tabby SOLD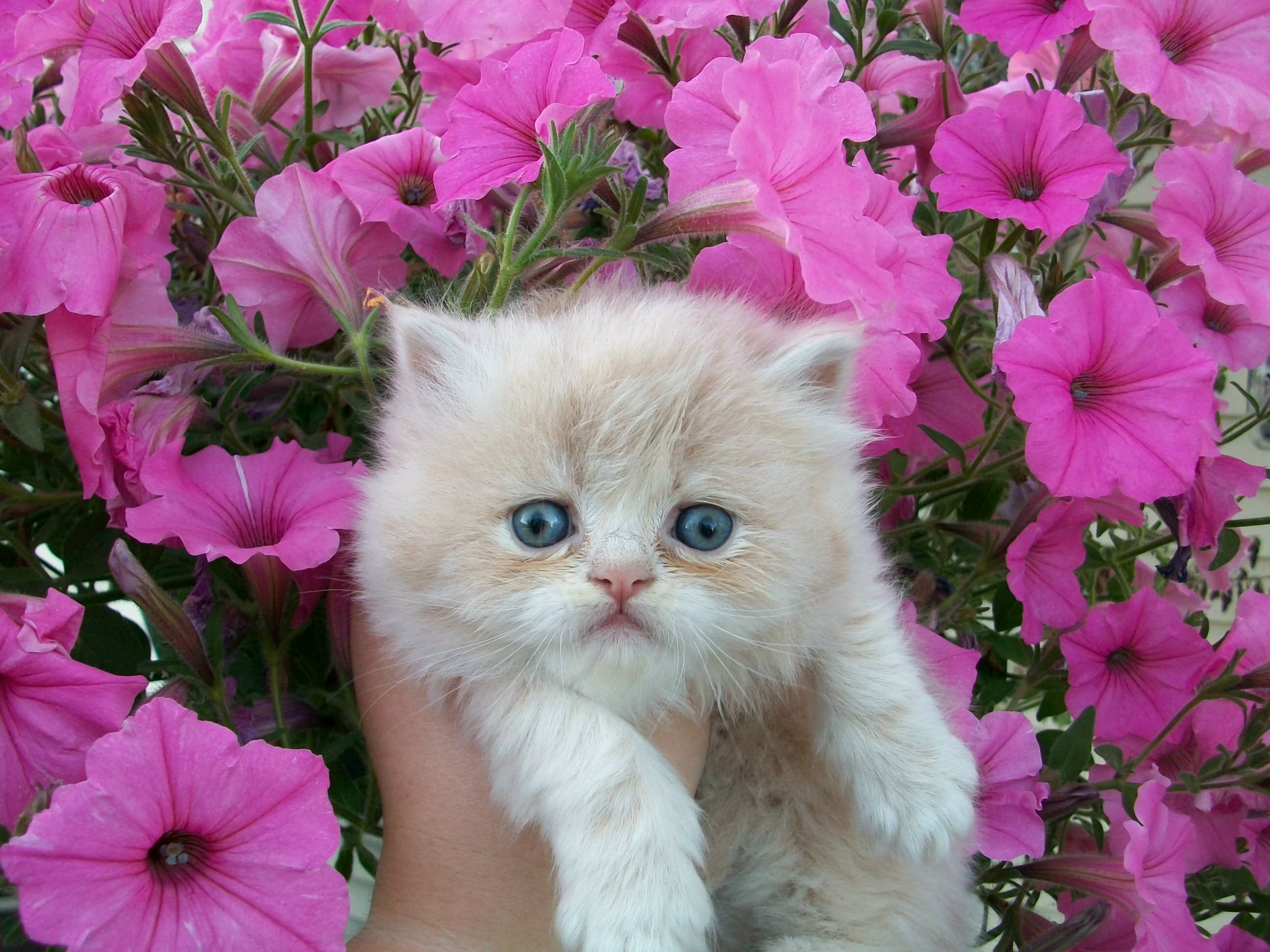 Comments From Past Adopters
"Max is WONDERFUL. Oh my god, he is so awesome . He slept with us all night last night. He is absolutely wonderful. We love him. I just wanted to tell you I was so impressed with the way you had your animals and they way they looked and just speaking to you, you're just a great, great person. I really appreciate everything you have done and even my brother said he was very impressed with they way they looked and your personality, you were very outgoing and friendly. Thank you! These guys are so adorable and lovable we are so happy with them. Betty thank you again for being such a good mommy and provider for them you did a wonderful job. Have a great week. Talk to you later." From Mona, who owns 2 Darling Dolls in Maine
Mona's 3 boys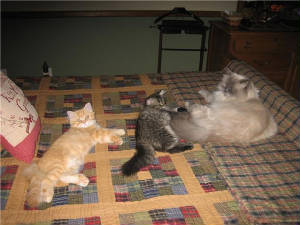 Hi, Betty,

Thanks again for your patience Saturday morning. I am so sorry we delayed you! Cinnamon (now Vesper) was so "chill" in his carrier. We were amazed. He rarely made a peep for the first 8 hours. However, toward the end of the trip, he was getting restless--poor guy--it was such a long trip! We pulled over and let him out and he went straight to the kitty litter and used it! What a smart guy! After that, he was content once again in his carrier. He really wasn't interested in eating or drinking during the trip. However, once we got home, he ate and drank periodically.

He is such a curious fellow! He watches everything I do and follows me around like a puppy--it is so cute! He already familiarized himself with his new home and was not shy about exploring. You did such an amazing job with him, Betty--thank you! He's only been here for 16 hours, but he knows his way around and has made this place "his".


I have attached his first photos. He is absolutely darling! I just want to thank you for making this experience easy and enjoyable--I love him to pieces! He is so well behaved, loving, and friendly. He is exactly what I had hoped for! You really are good at what you do! Anyway, we'll be in touch!

Thanks so much,
Noe, Alexandria, Virginia

Noelani's Regal Vesper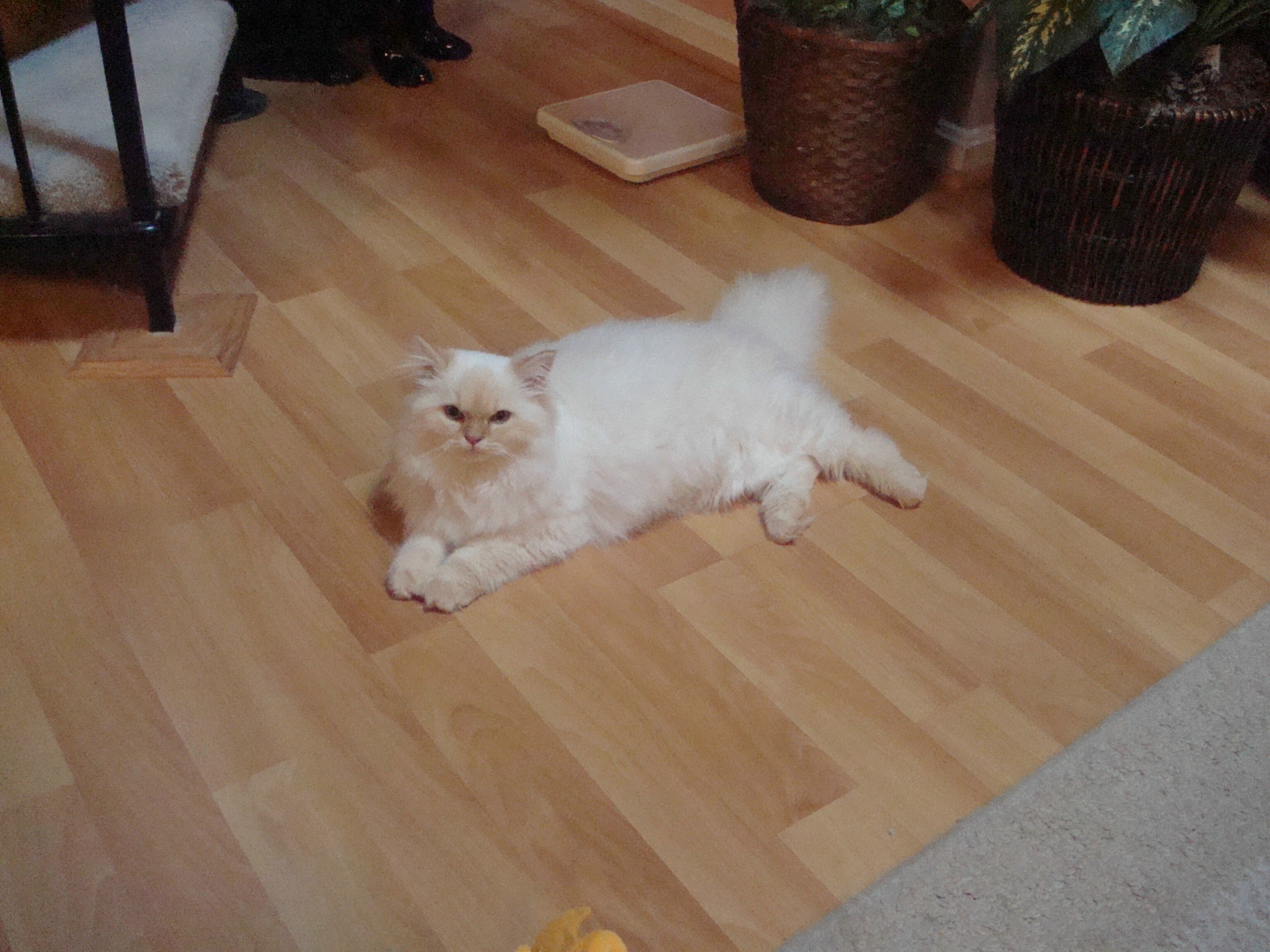 A Flame Point Himalayan from Crisco x Tsunami
Hi Betty:
Luna is doing great, she is getting used to the pom because he sleeps with us and it will take a little longer with the golden he is still a pup and hyper.
Luna, sleeps on my husbands pillow at night and she sleeps in between us too . We love her dearly and she has the sweetest temperament. We love her completely she is so sweet she is always purring what a love. We changed her name it just didn't fit and she didn't seem to like it. She likes to be called Precious Princess!! She struts around when we call her that so that's her name. Sometimes that happens they like a different name and that is fine with us because it describes her to a tee..
Will be taking pictures soon.
Thanks Darline, Camden, Maine
Darlene's Royal Princess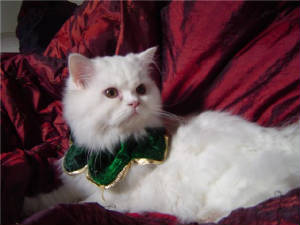 Betty: Just a note to let you know that Mighty & Posey are doing wonderfully & gowing-growing-growing! Especially Mighty-
They are a joy to have around and I thank you for such great mannered & loving kittens! My sister is also a cat person & just loves my new additions! Do you have any left out of your last litter of doll face persians? She is partial to white males-and I would like to maybe get another pair of kittens for her birthday in February- Let me know if you have anything available;I would have to work around your weather up there to pick them up this time! Let me know! Regina, Virginia
Regina's Pretty Posie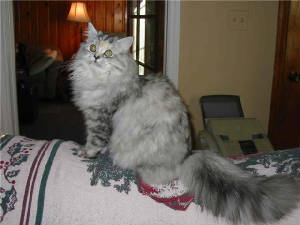 Regina's Handsome Max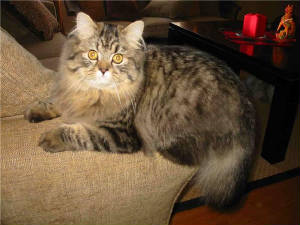 Betty,
This morning when I let Romeo out of the bathroom he jumped up on my bed and I petted him and he started purring. He's gonna be just fine. I can tell already that he is very lovey. I introduced him to the girls and they didn't accept each other as nicely as they are accepting him. Probably because he was very calm and did not seem a threat to them. I think the only fear that you need to have about Romeo is him getting spoiled..lol. He has been sleeping in my bed and the girls don't even get to do that. My daughter came to visit and threatened to steal him! She fell in love with him. When my husband saw him, he said "Now that's what a cat is supposed to look like" because my girls, especially my silvers, are quite small. I work part time so I am able to spend quite a bit of time with all of them. I understand how hard it must be for you. I would feel the same way if one of my girls went to a new home. He is very loved already . I bought a toy called panic mouse and he loves it. He is getting more comfortable every day though, so I'm sure he will be fine. He is a real purr box. Write any time that you wish and I will let you know how he is doing. Have a great day, Linda (Linrenay Persians, Ohio, USA)
Romeo, looking almost identical to daddy Crisco!!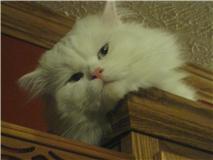 Owned by Linda of Linrenay Persians in Ohio.
Hi Betty, it's Lois. Chloe and Bree are doing great, but I need another! I've had 3-4 cats in the past, so I know what it's like. Is their sister, Linen, still available? If so, I'd like her. Also, I want you to let me know when your new litters arrive because I want a new baby too. Thank you so much, Betty. You've always been honest with me and sweet, I've talked to other catteries out-of-state and they're really stuck up and snobby or they just plain don't know what they're doing. You always take the time to answer all my questions, I'll always be coming back to you for my kittens. I've always been so pleased with them. They're all so healthy and sweet. Please keep me informed on your new litters!
From Lois, who has owned 5 Darling Dolls over the years, with a 6th baby on reserve! -Hampden, Maine
Halo, owned by the Dubes in Maine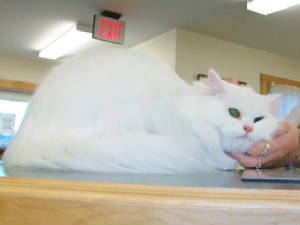 Halo still visits the vet hospital I work at! She checked out with flying colors and looked AMAZING!
It took a little bit of time but she has adjusted. She actually stole my other cats nap place which is under the bed but as soon as i go in the room and call to her she comes running out. It took her a bit to come out to the living room and still mainly stays in the bedroom but she slowly comes out. She is a beautiful cat and is sooo soft :D thank you again so much she is a great addition to the family!!! i will keep in touch and send pictures. Shes a wonderful kitten! - From the McCanns in Bangor, Maine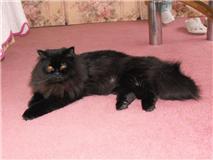 Hi Betty, Sirius is doing beautifully. He really has come around.
He has full reign of the house and craves our attention. Hes become a little love bug and seems very content. We couldn't be happier. He loves to be brushed and play. What a beautiful little boy.

I will definitely be keeping in touch! - From Johnny in Massachussetts
Hi Betty!!
We arrived home safely about an hour or so ago....he slept most of the way! As soon as he walked out of the crate he was pretty much on my lap...he's on my lap right now!! I love him dearly. He loooves snuggling and so do I!
I put the bed he was sleeping on on the way over here out with Toby so he can get acquainted with his smell and I gave him lots of treats while he smelled it. I hope they'll be ok....Toby is a big cat but he's never scratched or bitten anyone for as long as I've had him, so they should be ok...... hopefully soon so Dunkin can get to explore the entire place...instead of just in here. He looves my bed, and I laid down on it cause I was pretty exhausted from the trip and he came right up next to me and got in the same position! He's such a funny lil guy! Thanks so much for allowing me to have such a wonderful little friend! I'll send you pictures of him tomorrow when there's daylight....as for now I think he and I will hit the hay! I wanted to thank you again for the little ray of sunshine that is Dunkin and I thought I'd send you some more pictures! :)
Talk to you soon!! :)
Kat
P.S. His shedding isn't as bad as I thought it was going to be, so that's good! Toby has dry skin too....so thank you for the fish oil tip! I'll try it on both of them! And I can't tell you how adorable it is watching him strut around with those little midget legs! Gah!!! I didn't think there could be a cat cuter than Toby...but I think Dunkin may actually be! Thanks again Betty...you are awesome!!!