Darling Dolls Moonshine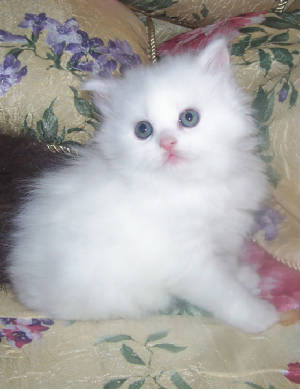 This gorgeous copper eyed white boy lives in Eddington, Maine.
Most catteries usually have specific goals for their white kittens and when they are able to work towards those goals, find a specific, descriptive name for their whites. Because our focus is producing STARK whites in super soft-textured fur, we've decided to call our white babies Snow Angels. We also focus on correct eye colors in every variety; endless shades of blue, intense coppers and our favorite; the exotic looking odd eyes! Snow Angels is also very fitting for our darlings as they are from Maine- where snow is abundant the majority of the time!
Darling Dolls Snow Cloud
This rare little odd-eyed boy went to Lois, in Maine. She has 5 Darling Dolls with 1 more coming!
Our amazing little Snow Angels come in a variety of sparkling eye colors! From the traditional alluring copper eyes, or the dazzling ocean-like blue eyes to the rarest, very desirable and unorthodox odd-eyes when one eye is copper, and the other is blue- all of our Snow Angels are sure to impress and amaze!
Darling Dolls Snow Cap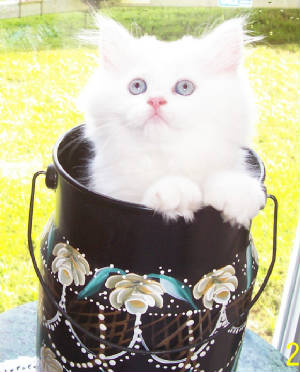 Now "Romeo," This blue eyed white gem is living the dream life; a stud at Linrenay Persians in Ohio!
What a pleasant, rare suprise to be wowed with ALL THREE gorgeous eye colors in our 2 very first litters!! It's been a long standing goal to produce amazing eyed whites, and to acheive that in only 2 breedings means the world to us. We are so thrilled with our current Snow Angels residing here at the cattery!
Darling Dolls Heavenly Halo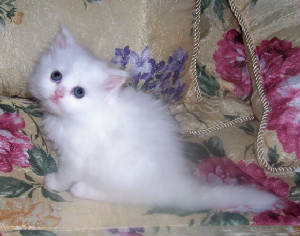 This Copper Eyed White treasure now lives with the Dube's in Maine
Halo visits my vet hospital for her yearly checkup
Thanks to a great Mom and Dad (Dubes), Halo is in magnificent health. It was so great seeing you all